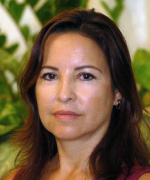 Cecilia Echeverria, RPSGT
Registered Sleep Technologist
Cecilia Echeverria, a registered sleep technologist, joined the St. Thomas Sleep Center in February 2008. Cecilia came to us from the well-known Canyon Ranch Health Resort, a trailblazer in the wellness field, where she worked as a sleep technologist for a number of years.
As a member of the St. Thomas Sleep Center team, Cecilia works in collaboration with Tim Beltz, our other sleep technologist, and Drs. Shapiro and Weisher to administer and interpret sleep studies on adult and pediatric patients. Cecilia, who is also trained as a nurse, orders and interprets lab work, conducts EKG and EEG testing, prepares patients for polysomnographic (sleep) tests, and monitors patients during sleep studies. Cecilia is trained to facilitate sleep studies using the most advanced technology available today.
A seasoned veteran, Cecilia has worked within the health care industry for over 15 years and has specialized in sleep medicine for the last 6 years. She began her career as a maternal and child health counselor and later became a respiratory science research technician. She continued her work as a researcher while pursuing a Bachelor of Science degree in Nursing from the University of Arizona. Shortly after graduation, she completed training and certification to become a polysomnographic (sleep) technologist.
Prior to relocating to St. Thomas, Cecilia held a number of sleep medicine positions in Arizona. In addition to her role at Canyon Ranch in Tuscon, she also worked as a sleep tech at the Northwest Sleep Center and as a clinical researcher at Psypharma Clinical Research.
Cecilia is highly credentialed and holds certificates in basic life support, advanced cardiovascular life support and pediatric advanced life support. A multilingual communicator, Cecilia speaks fluent English, Spanish, Portuguese and Italian.
Cecilia has a passion for helping people achieve higher quality sleep and believes strongly that good sleep along with good nutrition and exercise are the three pillars of good health.